At some point in life, professionally or personally, it's going to happen to you.
It's part of the vicious process called AGING.
You're going to walk into your office, and there staring in front of you is the next person that is going to take your job.
(By the way, they probably work for you, so to extend your professional career, fire that person now!) One day, your children are going to come home from school and will stop playing with you because it's not cool anymore.
Heck, even the dog is going to start laying on someone else's lap because your lap is getting too lumpy.
At some point in your life, you are going to become OBSOLETE!
There has been an ongoing headline all year long in Major League Baseball that made me think about the inevitable – getting old.
Since Spring Training, no, actually, since the 2010 off season, the recurring talk in the New York Yankees circle has been the aging of The Core Four…Andy Pettitte, Derek Jeter, Mariano Rivera, and Jorge Posada.
Four Yankees that came together in 1995, and except for a brief moment of home sickness, (Andy Pettitte decided to go to home to Houston and play for the Astros from 2004 – 2006), had played together and formed the nucleus of the Yankee Dynasty for over 16 years.
During that stretch, from 1995 to 2010, the New York Yankees had appeared in 7 World Series, walked away with 5 Championship Rings, won the AL East 10 times, and played baseball beyond the regular season in 13 of those years.
Each one of The Core Four had been drafted or signed by the New York Yankees, and except for the 3 years where Pettitte went to
Houston
, they called The Bronx their home.
And for many of those 16 years, success wasn't only expected, it was attained.
Now in the twilight of their career, each player would be faced with the inevitable…their playing days are coming to end.
For most Major League Baseball players, the last years of their career is just another phase.
They assume a part time role and if lucky enough, help provide bench leadership long enough to get a couple of extra years out of their skills (and a few more dollars in their bank account.)
When it comes to The Core Four and the New York Yankees, nothing is status quo on how they will end their careers.
Andy Pettitte took the decision and his fate into his own hands, and decided to call it a career before someone told him to take a seat in the bullpen.
At the beginning of the 2011 season, The Core Four was down to THREE.
Now, as the 2011 Major League Baseball enters the dog days of summer, where the heat, and the toll of playing every day begins to have an effect on your body, the focus has turned to Jorge Posada, and more glaring, the Captain of the New York Yankees, Derek Jeter.
How tough will it be for these players to take the news that their game
ain't what it used to be
and it's time to step aside?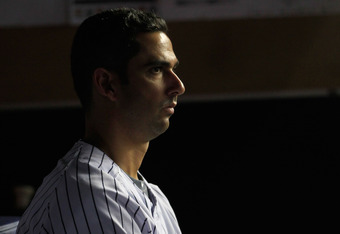 It was May 14, during a series against the hated Boston Red Sox, when Posada was hit with the news that must have felt like a wild pitch that bounced in the dirt and hit him in the gut… "

Jorge, we're dropping you down in the lineup tonight…you're

batting ninth

."

Ninth…is that where they put the pitcher?

Ninth…is that usually saved for that light hitting centerfielder what's his name?

Ninth…is that where you put your worst hitter?

When I first heard about how Posada reacted to the demotion of batting ninth in the Yankees lineup after a miserable start to the season, I, like I'm sure many sports fans thought, Posada acted selfishly and childish.

How could a grow man who is getting paid extremely well to play a game get upset for being demoted in the lineup?

(And even writing about it now, I'm thinking about how Posada acted that day when he met with manager Girardi, and I'm shaking my head!)
Imagine having earned "STAR" status in your profession for the past 16+ years, performing in a city that eats up its success like warm apple pie…craving it at every meal.
Imaging one day being told, that your skills aren't what they used to be, that your not as fast as you were a few years ago, you're not as quick, and sadly, not as needed as you were a few years ago…Imagine that for most of your life, all you have known, wanted and loved, was about to come to a crashing halt…All before the age of 40 years old?
Imagine that what kept you going every day…what got you up in the morning was no longer there for you?
How would you feel?
And it's all played out on the biggest stage in the country…Talked about on the radio, written about in the newspapers, and posted on every sports blog in the digital world…How would you feel?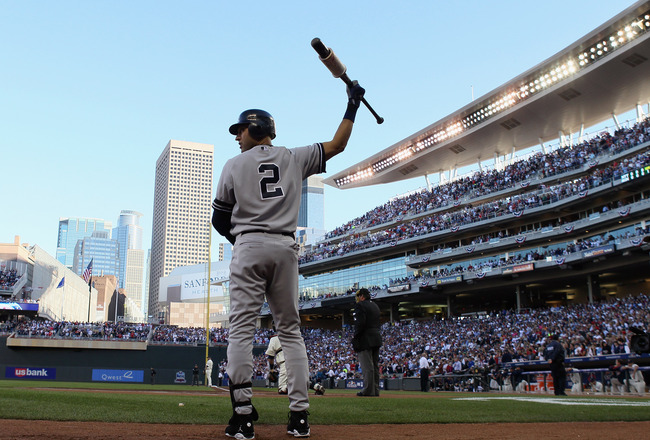 For Derek Jeter, the 2011 season will be marked as the true beginning to the end of his career.
A career that will certainly end up at
Cooperstown
in The Hall of Fame.
Throughout this season, we have heard how his range at shortstop has become a glaring problem, (they have been saying it for years actually.)
How he leads the league in infield hits (does it really matter), and how he can no longer drive the ball into the outfield.
And, how the New York Yankees and Manager Girardi need to move The Captain down, way down, to the bottom of the lineup.
Imagine how Jeter is going to feel when he no longer sees his name at the top of the lineup card.
Or when Girardi begins to platoon another shortstop with old Number 2.
For the past 16 years, all Jeter has ever given has been the best he has had to offer.
Imagine what it's going to be like when the best he has isn't good enough anymore?
Imagine how it feels when you're told you're no longer needed…Imagine how it feels when you become obsolete…