"Discipline Is The Bridge Between Goals and Accomplishment..."
There is a lot to be said about Discipline and Focus. In Life, in business, in sports, discipline and focus can be the driving force behind your success. Think about how many times you decided to quit smoking, lose weight, get in shape, find another job, make your sales quota…what "things" kept you on course to reach your goal? Yes, you had determination to "get it done…" Maybe it was your competitive spirit that pushed you to achieve what naysayer's said you couldn't…At the foundation of your plan was Discipline and Focus. Towards the end of the Major League Baseball season, one team embodied these two words more than any other, and that team is still playing baseball well into October. And that team is led by a manager who throughout his career, has been committed to Discipline and Focus. The team is the St. Louis Cardinals, and their manager is Tony LaRussa.
A month and a half ago, LaRussa and the Cardinals were a team fighting for their proverbial playoff lives. At the beginning of September, the Cardinals were eight games above .500, and eight and half games behind the Atlanta Braves for the lone National League Wild Card spot. The picture looked bleak. Even at the beginning of the season, the St. Louis Cardinals looked anything like a World Series contender as LaRussa's #2 Starting Pitcher, Adam Wainwright, a 19 game winner in 2010 went down with a season ending injury. The Cardinals manager stayed the course and pieced together a rotation behind ace Chris Carpenter that consisted of Kyle Lohse, Jake Westbrook, and Jaime Garcia. That trio of Lohse, Westbrook, and Garcia had a combined 2010 record of 27 – 27. The bullpen was in no better condition with Ryan Franklin, the former All-Star reliever for the Cardinals losing his closer's duties in mid-April and eventually released. LaRussa, and pitching coach, Dave Duncan, turned to Fernando Salas, and Jason Motte to close out games. Salas had one year in The Show under his belt, and Motte was a converted catcher.
Sure, the Cardinals would boast the National League's best offense, leading the league in Team Batting Average (.273), Runs Batted In (726), On Base Percentage (.341) and tied for league lead with the Milwaukee Brewers in Slugging Percentage, (.425) Yes, the Cardinals have Albert Puljos, arguably Major League's Best Hitter, but in 2011, his season, while for some would be considered outstanding, for Pujols, was subpar finishing with 37 Home Runs, 99 rbi's and .299 Batting Average. In the off season, the team's biggest name free agent signing was Lance Berkman, who finished the 2010 season with the New York Yankees after being dealt from the Houston Astros. Now, don't get me wrong, Berkman is a good player, and in his prime, he put up some impressive stats – a six time National League All Star, at his best Berkman was hitting 25+ Home Runs while driving in over 100 rbi's and batting over .300. But that was four years ago. In 2010, the 34 year old Berkman hit .245 with 58 rbi's. I don't think you necessarily categorize the signing of Berkman as major off season acquisition. (BTW, Berkman did finish 2011 with a .301 average, 31 home runs, and 94 rbi's, and the NL Comeback Player of Year!)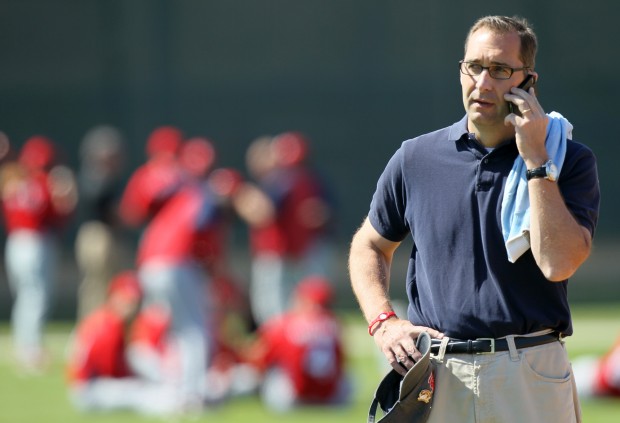 On July 27, the Cardinals stood in second place in the NL Central, a half a game behind the Milwaukee Brewers. General Manager John Mozeliak and LaRussa knew they would have to focus on their pitching if they had any chance to get into the playoffs, and right at the trade deadline, GM Mozeliak addressed the Cardinals needs by dealing for starter, Edwin Jackson, and relievers, Marc Rzepcznski and Octavio Dotel.
St. Louis
did part with Colby Rasmus, an outfielder who many felt would be a part of the Cardinals future, but they addressed several needs with the deal that many considered the key to the Cardinals playoff run. (The Cards also traded for shortstop Rafael Furcal, and in August picked up left-hander reliever, Arthur Rhodes)
Fast forward to October 16, at Miller Park, it's the 9th inning of Game Six of the NLCS, there are two outs, and the Cardinals are beating the Brewers 12 – 6. Jason Motte is on the mound about to throw a 99 mph fastball past Brewers batter, Mark Kotsay, to end the game, and put the Cardinals back in the World Series for the first time since 2006. By now everyone around Major League Baseball is asking themselves how did this
St. Louis
team do it? Weren't the Philadelphia Phillies supposed to be closing out the National League Championship Series and heading to the World Series? Didn't the Atlanta Braves have a lock on the Wild Card spot? How can a team whose starting rotation was led by a pitcher with 14 wins during the regular season make it into the World Series?
As Cardinals' catcher Yader Molina squeezed the third strike on Mark Kotsay, and ran out to the mound to bear hug Jason Motte, joining his other teammates on the field to celebrate, manager Tony LaRussa turned towards pitching coach Dave Duncan in the Cardinals dugout, firmly shook his hand, and gave him a hug of his own. Together they had been here before, and knew their quest for a Championship wasn't over. There was still one more series to play, and more decisions to make…now was not the time to forget what lie ahead…now was not the time to forget what got them there in the first place.